Doctor Pierre Noël DELATTE left us on 5 August 2012
After brilliant study at the Naval School of Health, Dr. Delatte became, at 22 years old, one of the youngest doctors in France. His career as a military doctor led him to Guiana and then to New Caledonia, where he chose to open a private practice, which he then actively continued in Noumea and in Tahiti.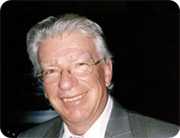 A private airplane pilot, he loved to fly over Caledonian Bay in the early hours of the day, and to play the organ in the church at Noumea – rare moments of relaxation. In New Caledonia he consecrated more than fifteen years to his research work on "energy medicine," work that would lead to the discovery of Psycho-Bio-Acupressure. Quickly recognizing the importance and the impact on his patients of this revolutionary method, he decided to make it available to the greatest possible number of people, and to share what he had learned and received. So, during several years, he traveled the entire world to spread his knowledge and to make it available to everyone through training workshops for practitioners, and through conferences. In Tahiti, he received the name of TUHEHAU, which means, in Tahitian, "the man who causes inner peace to flow forth."
During his life, he wrote several novels, and devoted his last four publications to PBA, thus bringing aid and comfort for the difficulties of life.
Those of us who knew him remember an admirable man, distinguished by his generosity, his goodwill, his care in bringing happiness and well-being, his brilliant intelligence, and his noble spirit.
Doctor Pierre-Noël Delatte has departed too soon. Therefore we at the Institute will strive mightily to continue his work, faithfully safeguarding his standards, preserving his teaching, and adhering to his values of respect, love and sharing. Let us not forget that for Dr. Delatte, "PBA" also stood for "Pour Beaucoup d'Amour."
We appreciate the heritage left to us by Dr. Delatte. We are determined to carry on with devotion and passion, faithful to what he transmitted to us and to what he taught, in the service of humanity